SERVICES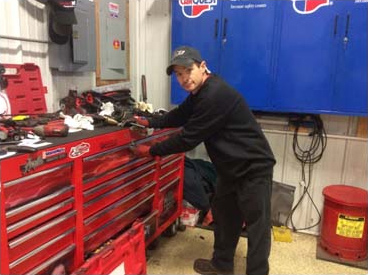 Meet Chris, our technician who has been repairing cars for over 20 years and runs our top-of-the-line service department.
We offer these services to help you keep your vehicle running safely:
Foreign and domestic service
Maine State Inspections
Oil Changes
Brakes
Shocks/Struts
Tires
Tune-ups
Preventative Maintenance
Batteries, starting, & charging
Mufflers & exhaust
Fair pricing
ASE certified technicians
Friendly service reminders to take the guesswork out of when your vehicle is due for service
Service Department Hours of Operation:
Monday - Friday 9am - 5pm Closed Saturday and Sunday
HONEST - DEPENDABLE - COMMITTED TO QUALITY SERVICE
TESTIMONIALS
Don and I want to thank D&S Auto for the great service and professionalism shown to us over the past 9 years. We just purchased our sixth vehicle from Bob since he opened this unique business. Bob, Corey, and Kim are always willing to work with us to get the best deal using the parameters we set regarding mileage, vehicle age, extended service contracts, vehicle history and such.
In addition, Phil and his company Auto Detailers keep our cars meticulously cleaned and thoroughly waxed to ensure the vehicles retain their value. We have also had several great experiences with Bob's mechanic, Chris with occasional needs in the service area and recommend him as well.
We highly recommend D&S Auto to anyone looking for a slightly used, quality vehicle and have been truly satisfied with all the purchases we have made. I know we will be back in a few years once we reach the magic number on the odometer.
-Sincerely,
Kathy & Don Foster
We have never had such an easy shopping experience. We have never had such caring and personalized attention. And we will never do business with anyone except D&S Auto!! You put new meaning to a "hassle free" experience. With much thanks for all your help – past and future.
-Most sincerely,
Lester & Honey Cohen
Thanks so much for all you did in helping us find just the right vehicles. They are perfect!
-The Hersey Family